Get access to All of the pin meetings AND join a great community who will help and inspire all for one low monthly price JOIN THE pin ACADEMY NOW!

"Bringing together the best in on-line and off-line property networking and education in the UK"
Experienced Property Investors who may be looking to expand their portfolio or new Investors who are just starting out, should be aware of the MASSIVE POSITIVE IMPACT NETWORKING EVENTS and FORUMS can have on their business, they are extremely beneficial due to the contacts that are made.

FORUMS are sometimes called BLOGS and are great places to get advice, share good and bad experiences and generally make like minded friends. Sometimes, it is very helpful just to sound off and to get comments of sympathy or even stories that are worse than yours. Either way, it does make you feel better! Some are free whereas others are not.
The quality of the forum is more dependent on the members rather than the expensive design or membership fees to the website. Join several and get chatting!
The aim is to connect different aspects of the property industry with Buyers, sellers, leading experts and everybody you need to know to MAKE MONEY from property. The idea is to educate, encourage and challenge serious property investors to focus on building better property portfolios.
NETWORKING EVENTS are now listed under the New Networking tab as they cover, amongst many other things, different strategies on how to profit from property and many will have guest speakers such as leading property experts who have already made huge profits in the present property market.

NETWORKING events are for people who share similar interests in property investment and other property related topics.

New strategies are developed regularly and NETWORKING and FORUMS are a fantastic way to expand both your knowledge base and bank balance as you capitalise on the different opportunities offered by the gathering of like minded people whether in person or in cyber space.
Success in property investment is about following a proven model for profitable investment that creates positive cashflow, even in the present harsh financial climate.
To stay updated with a comprehensive list of property events throughout the year JOIN OUR MAILING LIST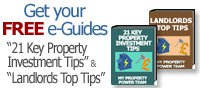 Click Here for full details